NEW DELHI: Punjab National Bank MD & CEO Atul Kumar Goel doesn't see a rush of Rs 2,000 currency notes, which are to be withdrawn over the next few months, resulting in a flood of deposits, and expects it to have a marginal impact on deposit rates.
"There may be a little impact. I do not see too much currency (Rs 2,000 notes) coming in because it remains a legal tender as on date, it can be accepted. There will be a very limited number of people holding these notes. I do not see any challenge in exchanging or depositing these notes in banks," he told TOI in an interview, while preparing his branch network for the exercise.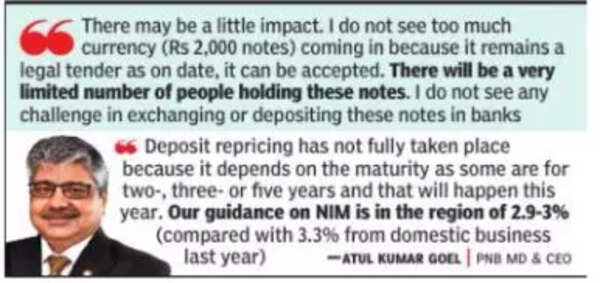 After demonetisation, a rush of deposits had resulted in a massive pile of cash with banks and softened interest rates.
The bank, which reported an over fivefold jump in profits during the fourth quarter, however, expects its net interest margin (NIM) – the difference between interest income on advances and payments on deposits – to narrow a little, given that deposits may be repriced during the current financial year.
"Deposit repricing has not fully taken place because it depends on the maturity as some are for two-, three- or five years and that will happen this year. Our guidance on NIM is in the region of 2.9-3% (compared with 3.3% from domestic business last year)," he said, adding that bulk of the loans have been repriced as they are linked to the repo rate, which has been increased by 2.5 percentage points since last May. In contrast, PNB's cost of deposits has increased by around 2 percentage points.
The PNB chief, however, said that the bank is expected to report annual profits of over Rs 4,000 crore during the current financial year as it has made enough provisions for bad debt and is targeting recovery of loans to be two times higher than the addition to non-performing assets .
"We have seen an over 300-basis point (100 bps = 1 percentage point) reduction in gross NPA (to 8.7%) and by around 200bps on a net basis. We are hopeful of containing gross NPA below 7% and net NPA below 2% (from 2.7%)," he said. Goel also said that during the first half of the current financial year, the bank is expecting to realise over Rs 1,800 crore from cases under the IBC.
He also sees recovery from Mehul Choksi and Nirav Modi-linked exposure improving. "We are working with the ED so that they can release some of the assets on which banks had a charge. We are also trying to sell some of the security available with us, such as jewellery." PNB also expects double digit credit growth with retail, agriculture and MSME loans doing well with the lender seeing a robust demand from the corporate sector, especially from roads, cement and steel.