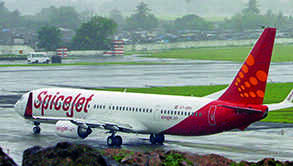 NEW DELHI: SpiceJet CMD Ajay Singh's assertion that the airline was not filing for insolvency does not seem to have comforted lessors, who asked the Directorate General of Civil Aviation (DGCA) on Friday to de-register two more aircraft with the carrier so that they could be repossessed.
This week has seen requests for five SpiceJet aircraft to be repossessed under Irrevocable De-registration and Export Request Authorisations (IDERA). Lessors use this option in cases like default of lease rentals, and aviation regulators have to de-register the aircraft within five days of getting a request.
Aircraft lessor Aircastle had filed a petition seeking insolvency resolution proceedings against SpiceJet on April 28. NCLT issued a notice to the airline on May 8 and the next hearing is scheduled for May 17.
Foreign lessors have been alarmed ever since National Company Law Tribunal (NCLT) admitted Go First's plea for voluntary insolvency, because of which their request for repossessing 45 of the airline's 54 aircraft cannot be processed.
Following this, Aviation Working Group, the UK-based aircraft leasing watchdog, issued a "watchlist notice" for India, warning that the Go First crisis "would have a direct and material impact on future financings and leases to Indian airlines."
The SpiceJet CMD on Thursday sought to reassure lessors and other stakeholders, saying there was "absolutely no question of filing for insolvency". "We have a great relationship with all our partners. Our lessors have supported us through thick and thin and continue to do so and we are grateful for their support," Ajay Singh said.
His comments have, however, done little to assuage fears. An industry insider said: "Lessors are scared after the Go First episode and will try to repossess their planes at the first sign of financial troubles in an Indian carrier, as they now know that if the airline goes into insolvency, they will not be able to get their planes back."
The past few months have seen some lessors filing applications with DGCA to repossess their planes from SpiceJet. The airline has been defaulting on statutory dues like paying provident fund and TDS for many months now.