BENGALURU: US asset management firm Baron Capital has marked down the fair value of Bundl Technologies, which runs food delivery platform Swiggy, by 34%. This comes just days after another US asset management company, Invesco, marked down Swiggy's valuation to $5. 5 billion from $8. 2 billion in its Q4 filings.
Baron holds 0. 7% stake in Swiggy. Its regulatory filing shows it pared the value of its stake to $50. 9 million, as against the investment value of $76 million for 11,578 shares. This indicates the valuation has been reduced to $7. 3 billion from $10. 9 billion.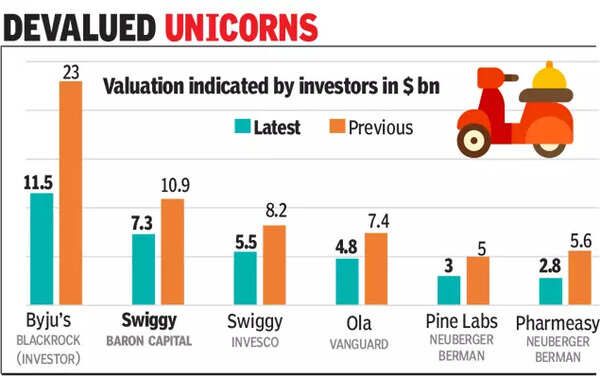 Baron Capital was one ofthe new investors that participated in the $700-million round that Swiggy raised last year, a round led by Invesco and Sumeru Ventures.
An email to Swiggy seeking a comment on the mark-down did not elicit a response. Many Indian unicorn (startups valued over $1 billion) are witnessing a sharp reduction in their valuations following the slowdown in funding.
Recently, Neuberger Berman cut the valuation of two of its portfolio firms — Pine Labs to $3 billion from $5 billion, and Pharmeasy by half to $2. 8 billion.