Byju Raveendran Age, Wife, Family, Biography, Net Worth & More
Being the founder of the Byju's
in centimeters- 180 cm
in meters- 1.80 m
in feet inches- 5' 11"
in kilograms- 80 kg in pounds- 176 lbs
A local school of Azhikode, Kerala
College/University Government Engineering College, Kannur, Kerala
Educational Qualification
B.Tech in Mechanical Engineering
Playing Football, Cricket, and Table Tennis
ED Raids
On 29 April 2023, the Enforcement Directorate (ED) raided the premises of Byju's in Bengaluru in connection with alleged foreign exchange violations by the firm. According to the agency, Byju's had allegedly remitted abroad over Rs 9,700 crore of the Rs 28,000 crore it received as Foreign Direct Investment (FDI) since 2011. The ED also alleged that the firm had remitted Rs 9,754 crore (approx) to various foreign jurisdictions during the same period in the name of overseas direct investment. The ED claimed that the agency started probing against Byju's after receiving complaints from various private persons. The agency also claimed that even after several summonses issued to the founder & CEO Raveendran Byju, he always remained evasive and never appeared during the investigation. While reacting to the ED raids, a spokesperson for Byju's termed it a "routine" inquiry and said, "We have been completely transparent with the authorities and have provided them with all the information they have requested. We have nothing but the utmost confidence in the integrity of our operations, and we are committed to upholding the highest standards of compliance and ethics."
Raveendran (Physics Teacher) Parents
Mother- Shobhanavalli (Mathematics Teacher)
Brother-Riju (Younger; Director at Byju's)
Sister-None
Some Lesser Known Facts About Byju Raveendran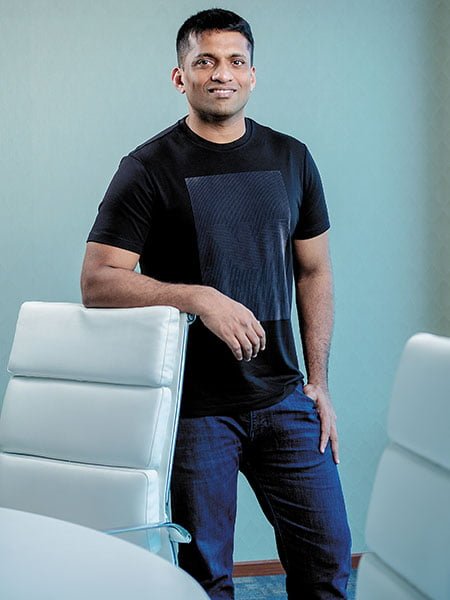 ■Byju Raveendran is an Indian entrepreneur. He created the learning app "Byju's-The Learning App", and it is the only startup in Asia which is funded by Mark Zuckerberg and his wife's foundation- the "Chan Zuckerberg Initiative"
■ Once, in an interview, he said that "Although my parents are teachers, they never pressurised me to perform well at academics. Instead, my father pushed me towards sports". It resulted in Byju playing six sports at the university level, including Football, Cricket, Table Tennis, and Badminton.
■ Despite being a sportsperson, Byju never planned to pursue a career in sports. Like most of the students, he only thought of two professions-medical science (Doctor) and engineering. He knew that he would not get any time for sports as a medical student, he chose to becomean engineer.
■ After graduating, he secured a job as a 'service engineer' at a multi-national shipping firm.
■ Once, when he was on a vacation in Bangalore, his friends were preparing for the CAT exam. Since Byju was good at maths, his friends asked him to guide them. Not only did he help his friends, but he also appeared for the exam, just for "fun". To his surprise, he scored a perfect 100 percentile.
■ He wanted to ensure that his 100 percentile was not a fluke, hence, he attempted the exam once again and scored 100 percentile. He got a call from all six of the IIM's, but, he declined all the offers; as he had no interest in doing an MBA.
■ His friends also cleared the exams with good marks. Thus, his journey of becoming a professional teacher began from the terrace of his friend's house. He would guide MBA aspirants with tips and tricks to solve mathematics problems in the least time-consuming way. In an interview, he said, "As the number of students grew, the venue of his classes moved from friend's terrace to a classroom, to an auditorium, and eventually to a stadium.".
■ Since he was enjoying teaching, he gave up his job and began teaching. He kept the initial workshops "free of cost:". He charged money for the advanced workshops only when the students were comfortable with his style of teaching.
■ He became so popular among students that at one point in time, he was taking maths workshops for around 20,000 students, across different cities, including Delhi, Pune, Mumbai and Chennai.
■ In 2009, he began recording his lectures to make them available to students across 45 cities.
■ A few students, who had just passed out of IIM's, contacted him and proposed the idea of taking Byju's classes to an all-new domain. Therefore, he, along with his former students, founded a company named "Think and Learn", which was aimed at creating content for school students. Byju operated on the idea that- "to perform well in competitive exams, students should have complete concept-clarity, which can only be imparted during a person's schooling".
■ By August 2015, Byju's Android and iOS apps had over 5.5 million downloads with more than 2.5 Lacs annual subscribers.
■ In September 2016, the Chan-Zuckerberg Initiative, a philanthropic organisation created by Facebook founder Mark Zuckerberg and his wife, Priscilla Chan, invested $50 million in Byju's firm, making it the first start-up in India to be funded by the initiative.
■ The following snapshot sums up Byju's journey: The journey so far
2007: Started Byju's Classes for CAT (Common Admission Test for (M)
2009: Started online video-based classes for CAT
2011: Incorporated as Think & Learn Pvt. Ltd with focus on the K-12 segment
2014: Launched tablets for teaching
2015: Launched Byu's-The Learning App