India-born British industrialist Srichand Parmanand Hinduja – who, along with his younger brothers, turned the family's trading business into a conglomerate spread across banking, automotive, healthcare and real estate – died on Wednesday. He was 87.
He was suffering from dementia and other health issues. A Hinduja Group spokesperson said he had been ailing for some time and died at his home in London where he was receiving medical care.
Known as SP among his associates and friends, he joined his father, the founder of Hinduja Group, in the business at the age of 17, and subsequently became the chairman of the conglomerate. It is learnt that his brother Gopichand Hinduja (83) will succeed him as chairman of the over $60-billion closely held group.
SP's wife Madhu passed away four months ago, aged 82. They had three children – Shanu, Vinoo and Dharam, who died in 1992. In a statement, the group said, "SP was a visionary… A titan amongst his peers… courageous in action and generous at heart".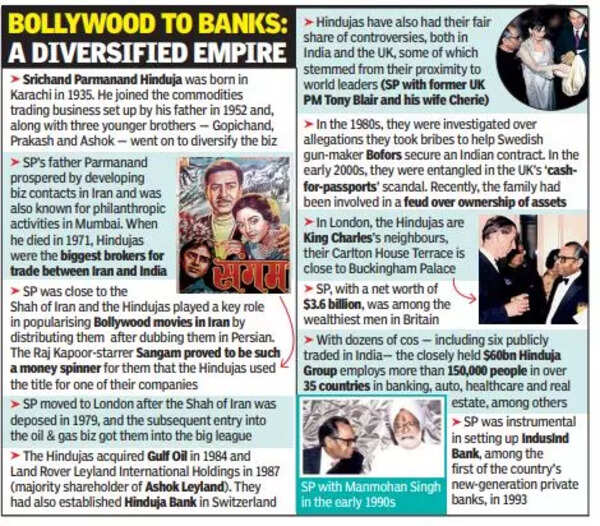 SP shifted group to UK after Iranian revolution
When SP Hinduja entered the family business in 1952, his father had made Iran the hub of his trading business – he would export carpets and dry fruits from Iran and import textiles and tea from India. The Hinduja Group remained headquartered in Iran till 1979. But, when the Islamic revolution swept out the Shah and brought Ayatollah Khomeini to office, SP and his family members shifted base to London, which remains the conglomerate's HQ even now.
SP helped to broaden the family's business interests. The group established a finance company, Hinduja Bank, in Switzerland. It later acquired Gulf Oil International and Land Rover Leyland International Holdings (UK), a major shareholder of Ashok Leyland. SP, according to the Hinduja Group website, conceived of IndusInd Bank, the first of the new-generation private banks in India.
Former Ashok Leyland MD R Seshasayee said, "He (SP) was a man well ahead of his time and was truly a visionary." Seshasayee, who worked closely with SP for many years, said, "He was a person who had a deep commitment to India and all the ancient values that India stands for. Our civilisational values were deeply ingrained in his mind and he was a nationalist, no matter what passport he held."
Seshasayee described SP as a complete family man. "He was the binding force in the family, which includes both immediate family, extended family, and the concept of Parivar – even professionals like me were drawn into that circle."
SP, along with his three brothers, controlled the Hinduja Group, which employs over 1.5 lakh people in more than 35 countries. But in June 2020, a UK court filing revealed a dispute between SP and his three brothers over the ownership of assets. SP's descendants sought a separation of some of the family assets. However, the four brothers in 2014 had inked a pact that all the assets belong to everyone and that each one will appoint the others as their executors. In 2022, media reports from the UK emerged that the brothers had decided to halt the litigation after they agreed to tear up the pact.