MUMBAI: SBI has become the country's first lender to report an annual net profit of over Rs 50,000 crore. The public sector bank has also overtaken
HDFC Bank
, which was the most profitable lender in India for several years.
SBI on Thursday reported a net profit of Rs 16,695 crore for the March quarter, an increase of 83% over Rs 9,114 crore in the year-ago period. The bank's net profit for FY23 stood at Rs 50,232 crore, a rise of 59% over Rs 31,676 crore recorded in the previous year. HDFC Bank had reported a net profit of Rs 44,108 crore for FY23, an increase of 19% over Rs 36,961 crore in FY22.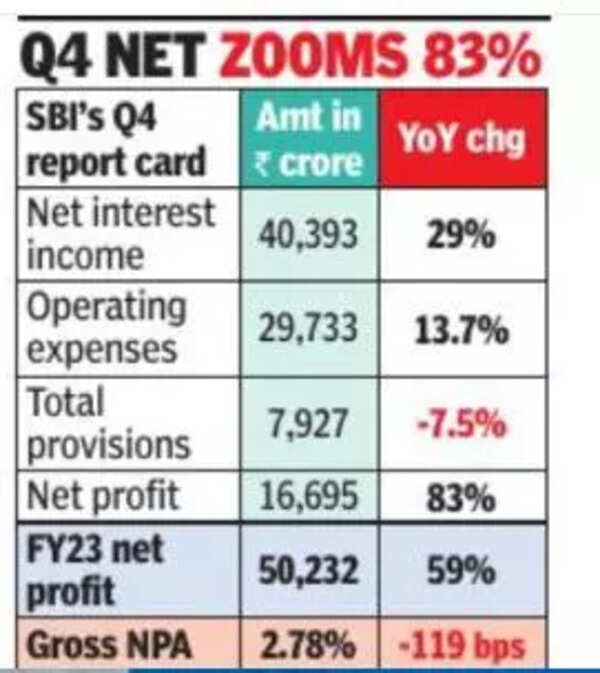 Profits were driven by a widening of interest margin to 3.84% in the fourth quarter as both the loan book and interest rates on loans grew together. The bank was under less pressure to raise deposits as it continued to have surplus liquidity in its book. According to Khara, there was scope for further improvement in the interest margins.
SBI has declared a dividend of Rs 11.3 per share up from Rs 7.1 in the previous year. SBI chairman Dinesh Khara said that the bank had to make lesser provisions because of improved asset quality. This was reflected in the drop in non-performing assets to 2.78% – the lowest in over a decade. Khara said the bank was taking all steps to ensure that it maintains the quality of its loan book in a sustainable way.
SBI's share price fell 2.1% as the market was expecting even higher numbers. Khara said the increase in operational costs was partly because of higher provisions for staff expenses ahead of the next wage revision.