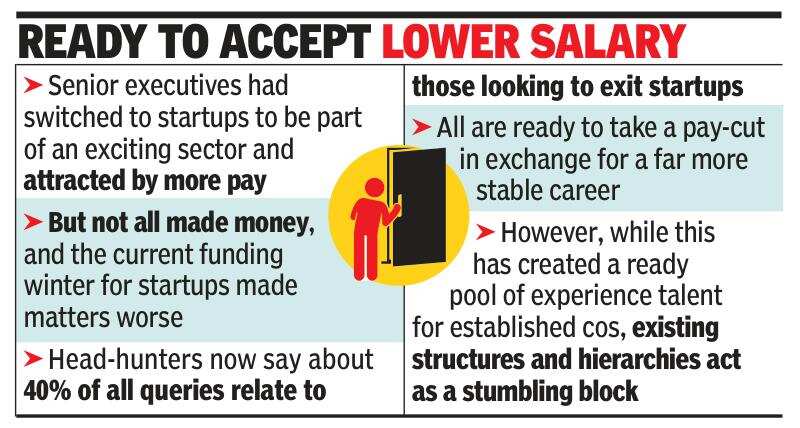 Like homing pigeons, executives who had joined startups a decade ago are said to be keen on coming back to traditional industries. Lured by greener pastures, many executives — especially from financial and consumer sectors — had jumped on to the startup bandwagon earlier. Having gained the experience of working in startups, which are now facing a funding winter, several are reaching out to search firms to bring stability back into their lives.
Kunal Girap, co-founder and director of WalkWater Talent Advisors, said it is astonishing just how many positive affirmations the firm has received from the startup community, expressing an eagerness to return to established organisations. "There is a notable trend of individuals from the startup community actively pursuing and open to leadership roles within stable and established organisations. We are currently managing a couple of such searches and are surprised by the positive responses from the leaders within the startup community," said Girap.
Ronesh Puri, MD of Executive Access (India), said even a few years ago, top executives would express their keenness to join a startup for the lure of making big money. In the last 18-24 months, he said, the sentiment has been moving the other way. "Very few ended up making money. For the rest, dreams did not translate into reality. Now with the funding winter, there is a question of survival. Among the queries we receive, at least 30-40% are from executives who want to move out of the sector. Talent today is sceptical about joining a startup. Hence, it's more difficult to get top quality talent for the startup sector," said Puri.
Jyoti Bowen Nath, managing partner of Claricent Partners, said the clear trend is of senior leaders — who had joined the world of startups lured by the glitz & glamour, lucrative packages and glorified designations — choosing to go back to more stable pastures. "We see this trend more in the tech and edtech space, but not necessarily restricted to the same. Almost 40-50% of talent which had joined startups are getting absorbed by traditional IT companies," said Nath.
Girap said, "Ultimately, it is about value creation versus valuation. Leaders who are primarily driven by the goal of creating value within the startup ecosystem tend to remain committed to their entrepreneurial journeys. However, those who got into it for the valuation game are grappling with uncertainty brought about by the funding winter."
This has created a pool of good talent for other sectors. "A couple of clients have given us the mandate of picking up top talent from failed startups. By default, such talent is rich in the relevant skill sets for growing and scaling up businesses. Most have a very strong entrepreneurial spirit, the ability to take risks and the ability to handle intense pressure," said Nath. Search firms say candidates are even willing to take a hit on their compensation to move out of the sector. "Most of the returning talent had left for inflated salaries and they are willing to come back at a cut," she added.
However, while employers prefer boomerang talent for their culture-fitment, at times it would be difficult to accommodate them because of existing structures and hierarchical bands. Nath said companies are thus careful while hiring such employees back for fear of upsetting internal equations of parity. "The significant salary leaps that were previously common in startups, sometimes even reaching 100%, have now stabilised to a more moderate range of 10-20%," said Girap. He also pointed out that individuals are no longer fixated on job titles and are instead focusing on other aspects such as the breadth of their roles and career growth opportunities.