MUMBAI: The boom in overseas travel after the pandemic has led to foreign currency spends by Indians jumping $7.5 billion to a record $27.1 billion in FY23. Nearly 90% of the additional spend under the RBI's liberalised remittance scheme, came from foreign travel alone.
According to RBI data, foreign currency spends were at about $19.6 billion in FY22 and $12.7 billion in FY21 largely due to subdued travel amid the pandemic. With the waning of the pandemic, there has been a surge in overseas travel, which jumped to $13.7 billion in FY23, an increase of 97% from $6.9 billion in FY22.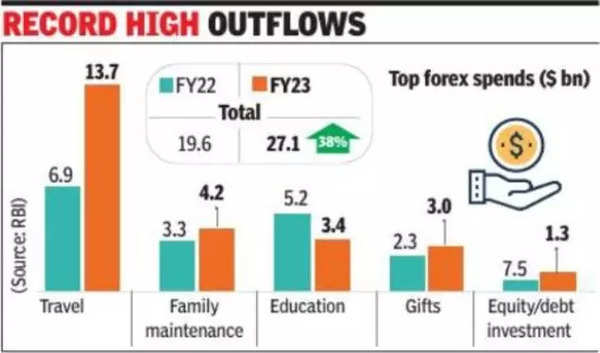 Until FY18, Indians were on average spending less than a billion dollars every month. The FY23 data shows that the monthly average remittance is around $2.2 billion — the amount has doubled in five years.
Family maintenance and overseas education were other top outward remittance categories. Interestingly, remittances for education dropped to $3.4 billion in FY23 from $5.2 billion in the previous year. In overall remittances, the spending for education accounts for about 13% of spending as against travel which makes up 50%.
The data on record spending on travel comes at a time when the government has placed checks on remittances by imposing a 20% tax collection at source (TCS) on travel expenditure.
It is expected that there could be some moderation in remittances on account of the 20% TCS. However, since the new tax rules come into effect from July, many are advancing their travel plans to the first quarter to avoid the 20% TCS. As a result, the remittance numbers for April-June 2023 might remain elevated.
The increase in foreign travel is further evidence of the 'K' shaped recovery where different parts of the economy show divergent performance. This is seen in a big jump in luxury spending, including high-end cars and five-star hotel bookings, even as fast-moving consumer goods (FMCG) see a slowdown.
Gifts too have a double-digit market share in total remittances. In FY23, Indians sent abroad $3 billion as gifts, an increase of 28% from $2.3 billion in FY22.
Among other heads, deposits in foreign banks and investments in overseas equity and debt markets stood at $1 billion and $1.3 billion in FY23, an increase of 21% and 68%, respectively, over the previous year.