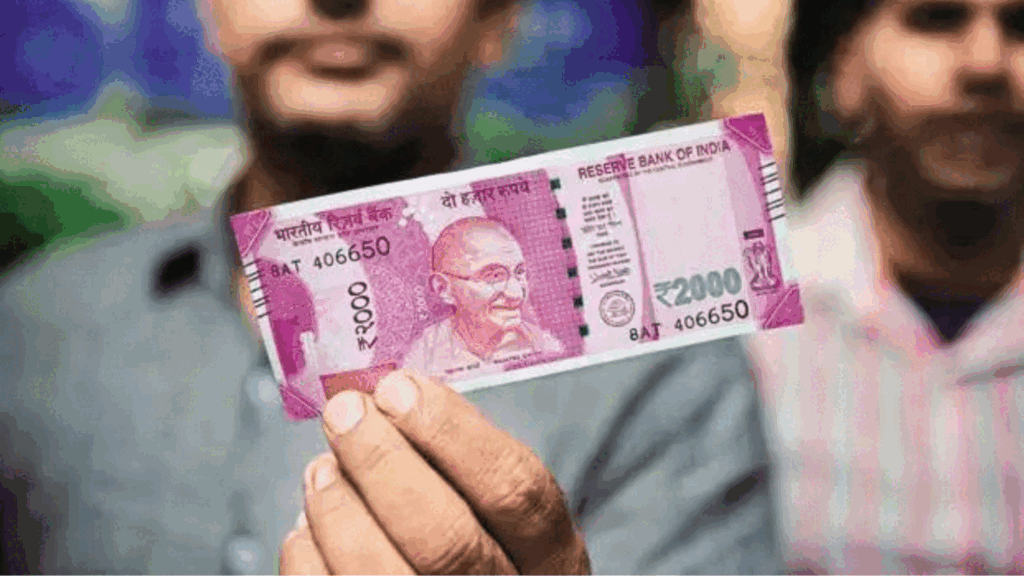 NEW DELHI: The
Reserve Bank of India
(RBI) on Friday announced to withdraw the Rs 2,000 denomination banknotes from circulation. However, the Rs 2,000 notes will continue to be legal tender.
The central bank has asked people to deposit the Rs 2,000 banknotes into their accounts and/or exchange them into banknotes of other denominations at any bank branch.
Exchange facility for Rs 2,000 bank notes up to Rs 20,000 at a time would be available from May 23, said the RBI statement.
The RBI has asked banks to provide deposit and/or exchange facility for Rs 2,000 notes until September 30, 2023.
Deposit into bank accounts can be made in the usual manner, that is, without restrictions and subject to extant instructions and other applicable statutory provisions.
The RBI has also advised banks to stop issuing Rs 2,000 denomination banknotes with immediate effect.
'Second surgical strike on black money'
BJP leader Sushil Kumar Modi termed the decision a "second surgical strike on black money".
"During demonetisation, the government started printing Rs 2,000 notes to give immediate relief to the people. This will not trouble the common man as they do not have Rs 2000 notes," he said.
Meanwhile, former RBI deputy governor R Gandhi said the withdrawal of Rs 2,000 bank notes would help in curbing black money to "great extent" as people are hoarding the "high value currency".
Parties slam decision
Congress veteran and former finance minister P Chidambaram on Friday slammed the BJP-led Central government on the Reserve Bank of India's move to withdraw Rs 2,000 denomination banknotes from circulation and said that "demonetisation has come full circle" adding that it was an expected move.
In a tweet, Chidambaram said, "As expected, the government/RBI have withdrawn the Rs 2000 note and given time until September 30 to exchange the notes. The Rs 2000 note is hardly a popular medium of exchange. We said this in November 2016 and we have been proved correct. The Rs 2000 note was a band-aid to cover up the foolish decision of demonetising Rs 500 and Rs 1000 notes which were popular and widely exchanged currencies. A few weeks after Demonetisation, the government/RBI were forced to re-introduce the Rs 500 note. I shall not be surprised if the government/RBI re-introduced the Rs 1000 note as well. Demonetisation has come full circle!"
Reacting to the development, Aam Aadmi Party leader Saurabh Bhardwaj said: "This whole concept of starting the circulation, stopping the circulation of notes, or issuing of new notes, was started by PM Modi and the economy suffered due to this … I don't know what will be the pros and cons of this step but I hope the decision was taken by the experts."
Congress general secretary in-charge of communications Jairam Ramesh slammed the move on Twitter. "Typical of our self-styled Vishwaguru. First Act, Second Think (FAST). 2000 rupee notes introduced with such fanfare after that singularly disastrous Tughlaqi firman of Nov 8 2016 are now being withdrawn," he said.
Congress leader Pawan Khera also criticised the decision, stating that the "ghost of Nov 8, 2016 has come back to haunt the nation once again".
Objective met: RBI
The Rs 2,000 denomination banknote was introduced in November 2016 primarily to meet the currency requirement of the economy in an expeditious manner after the withdrawal of legal tender status of all Rs 500 and Rs 1,000 banknotes in circulation at that time.
The objective of introducing Rs 2,000 banknotes was met once banknotes in other denominations became available in adequate quantities.
About 89% of the Rs 2,000 denomination banknotes were issued prior to March 2017 and are at the end of their estimated life-span of 4-5 years.
The total value of these banknotes in circulation has declined from Rs 6.73 lakh crore at its peak as on March 31, 2018 (37.3% of Notes in Circulation) to Rs 3.62 lakh crore constituting only 10.8% of notes in circulation on March 31, 2023.
"It has been observed that this denomination is not commonly used for transactions. Further, the stock of banknotes in other denominations continues to be adequate to meet the currency requirement of the public," the RBI said Friday.
The printing of Rs 2,000 banknotes was stopped in 2018-19.
(With inputs from agencies)
Watch RBI scraps Rs 2000 denomination notes from circulation, will continue to remain legal tender