NEW DELHI: Foreign direct investment (FDI) inflows into the country fell 16% to $71 billion (on a gross basis) during 2022-23 on the back of a weak global economic situation, marking the first decline in a decade.
Latest data released by RBI in the monthly bulletin showed that during the previous financial year, after adjusting for repatriation and disinvestment by foreign investors, direct inflows were 27% lower at $41.6 billion.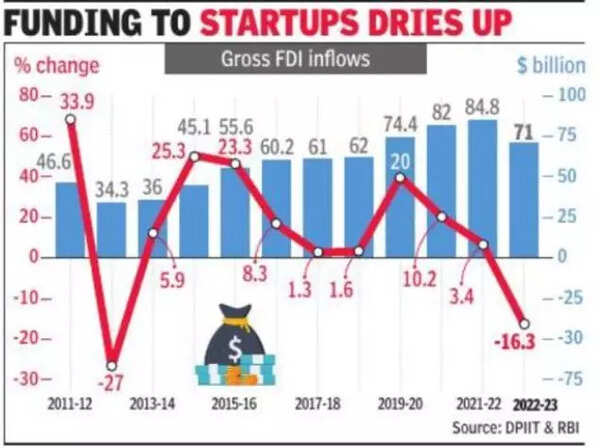 The declining trend was visible for most part of the last financial year. Significantly, India had bucked the trend even during 2020, the year of Covid-induced lockdown, when inflows surged on account of massive investment by tech giants in Reliance Jio and startups.
But high inflation and weak demand in the US and Europe has dried up flows into startups, which were large recipients of surplus money floating globally. The drop in flows has, however, failed to dampen sentiments, with officials and economists maintaining that it would be reversed, and investors are likely to step up investments once the global uncertainty ends.
"The slowdown in FDI has been a global trend in 2022, so this doesn't come as a surprise… But India, as the fastest-growing economy in G-20, is structurally well-positioned to attract healthy FDI flows over the medium term. The government should take advantage of the ongoing diversification of global supply chains and attract foreign investments into India's manufacturing sector," said DK Joshi, chief economist at ratings agency Crisil.
Unctad's World Investment Report had warned that "investor uncertainty and risk aversity could put significant downward pressure on global FDI".
On a net basis too, FDI declined 27.5% to $28 billion as outward flows also fell 23% to $13.6 billion, indicating that Indian companies too went slow on investments in other countries.
In 2022, China saw FDI inflows rise 8% to $189 billion, according to preliminary data released in January.
The government is banking on large investments from global majors to boost manufacturing activity in key sectors, such as, electronics, chemicals, automobiles and textiles to not just meet the requirements of the domestic market but also exports and make India part of the global value chain. Unctad had also pointed out that among developing countries, India was the largest destination for FDI in setting up R&D bases by multinational enterprises.