MUMBAI: The
Reserve Bank of India
(RBI) on Friday announced the withdrawal of the Rs 2,000 banknote from circulation with the public being "encouraged" to deposit or exchange the notes at bank branches until September 30, 2023. At the same time, the central bank maintained that these notes will enjoy legal tender status even beyond the September 30 deadline.
The move came over six years
after the Rs 2,000 notes were brought into the system along with the demonetisation of Rs 1,000 and the old Rs 500 notes in November 2016 to meet the urgent requirement at the time.
The central bank cited lack of use and the fact that the banknotes were nearing the end of their four-five-year lifecycle as reasons for the withdrawal.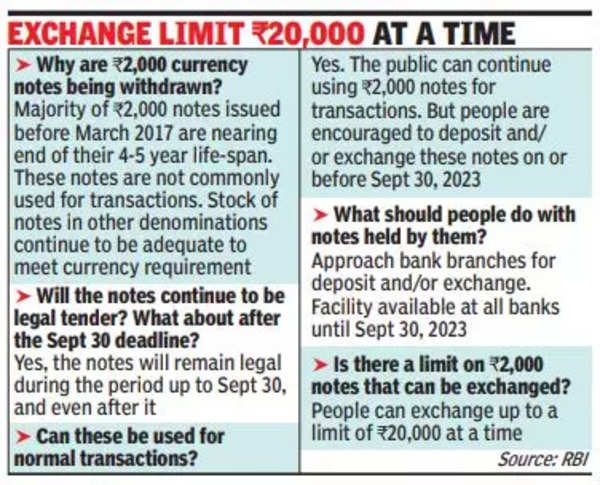 RBI: Usual rules to apply for deposit of Rs 2k notes, Rs 20k limit for each exchange
While announcing the withdrawal of Rs 2,000 banknotes, the Reserve Bank of India on Friday gave people the option of depositing these notes with banks or exchanging them for other denomination notes up to a limit of Rs 20,000 at a time.
For those depositing the notes, the usual procedures and rules will apply. Those wanting to exchange them can only do so up to a limit of Rs 20,000 at a time, starting from May 23, 2023, at any bank branch.
"In accordance with the RBI's 'Clean note policy', the decision to withdraw the Rs 2,000 banknotes has been made," RBI said in a press release on Friday evening.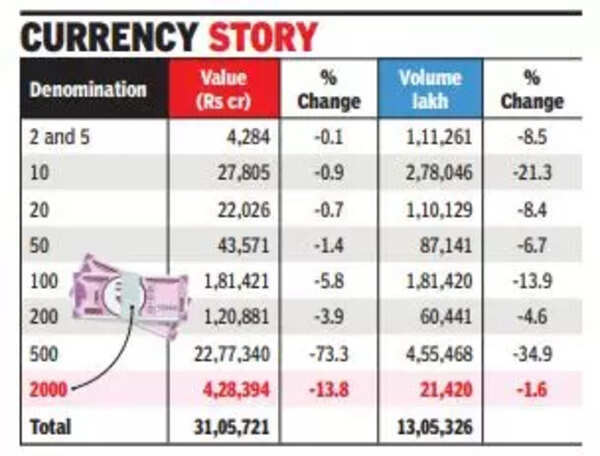 At the end of March, there were Rs 3.6 lakh crore of Rs 2,000 banknotes, constituting 10.8% of the notes in circulation. This is a significant drop from the Rs 6.7 lakh crore printed after demonetisation (representing 37.3% of the total notes in circulation). "Moreover, it has been observed that the Rs 2,000 denomination is not commonly used for transactions, while an adequate stock of banknotes in other denominations is available to meet the public's currency requirement," RBI said.
With UPI and payment wallets becoming mass use products any disruption is a remote possibility. 00:59
What has the govt achieved by introducing the Rs 2,000 note and now by withdrawing it: NCP leader Clyde Crasto
The central bank compared the exercise to withdrawing notes with fewer security features in 2013-14. In January 2014, RBI announced the withdrawal of all banknotes printed before 2005 and announced a three-month window. The deadline was later extended to January 1, 2015, then to June 30, 2016. This extension was possible as the notes continued to be legal tender and were only withdrawn from circulation.
In recent months, as other denominations became readily available, the objective of introducing the Rs 2000 note was fulfilled, leading to the cessation of its printing in 2018-19, RBI said. 01:18
Shiv Sena (Uddhav faction) leader targets PM Modi after RBI scraps Rs 2000 notes
Bankers said that these notes were not being used so much in day-to-day transactions but the fact that such a large amount continued to be held with the public, pointed to its use as a "store of value".
"As witnessed during demonetisation, we expect the deposit accretion of banks could improve marginally in the near term. This will ease the pressure on deposit rate hikes and could also result in a moderation in short-term interest rates," said Karthik Srinivasan, Senior Vice President, Group Head – Financial Sector Ratings, ICRA Ltd. Separate guidelines have been issued to banks in this regard. 02:27
'Proves 2016 demonetisation move wrong': How Congress leaders panned Modi govt over withdrawal of Rs 2000 notes
In addition to bank branches, the 19 regional offices (ROs) of RBI with Issue Departments will also provide the facility for exchanging Rs 2000 banknotes up to the limit of Rs 20,000 at a time, commencing from May 23, 2023.
The RBI has advised banks to discontinue the issuance of Rs 2000 denomination banknotes with immediate effect.
"Now at least the government should accept that their decision to introduce a Rs 2,000 currency note was wrong. This will likely result in a loss of confidence in the currency itself. Now again, people will be in a panic. Banks need to be equipped to exchange. There is every possibility that Jan dhan accounts will be used to exchange. Government should exercise necessary precautions or otherwise, this may result in one more fiasco," said Devidas Tuljapurkar of the All-India Bank Employees Association. 03:02
RBI scraps Rs 2000 denomination notes from circulation, will continue to remain legal tender