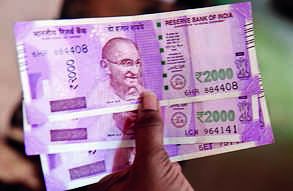 NEW DELHI: RBI governor Shaktikanta Das on Wednesday said that RBI is keeping close tabs on the deposits and exchange of Rs 2,000 notes and added that he was hopeful of the entire exercise being completed in a non-disruptive manner.
"On Tuesday, there was no crowd anywhere. And we are monitoring the situation regularly. I don't think there is any concern or any major issue which is coming out…business activities going on," he told industry leaders.
Last week, RBI announced the withdrawal of Rs 2,000 notes, which can be deposited or exchanged at bank branches, until September 2023, although the high-value note will remain legal tender even after that. Das said that a four-month window had been provided to ensure that there is no hardship faced by anyone.
He said that the notes had completed their lifespan and central bank's surveys had shown that there were not too many transactions using these notes and leaving high denomination notes in the system "can create other collateral issues".
Responding to another question, the governor ruled out doing away with multiple categories of licences for banks and non-bank finance companies, arguing that each had a specific role. He said that universal banks licences were issued by the regulator after a rigorous exercise and can collect deposits, which was public money. "Poor people, the middle class, retired people put their money because of a licence. Banking licence can't be equated with NBFCs or small finance banks," Das said.