MUMBAI: It seems we shrugged off flu as well as virals in April pretty well, as anti-diabetic therapies have started to bounce back, dethroning antibiotics from their pole position.
Anti-diabetic therapies Mixtard and Glycomet-GP made a comeback into the top five selling brands' list in the over Rs 2-lakh-crore pharma retail market, overtaking popular antibiotic Augmentin. Over the last few months, as the country was suffering from flu and Covid, the antibiotic had registered substantial growth and even emerged as the largest-selling brand in February. It had overtaken the established market leader for several years now – antidiabetic therapy Human Mixtard.
Last month, Mixtard resumed the top rank, followed by Glycomet-GP, registering sales of Rs 76 crore and Rs 73 crore respectively. Overall, April witnessed an 11% growth with sales of Rs 17,799 crore, according to latest data culled from market research firm IQVIA.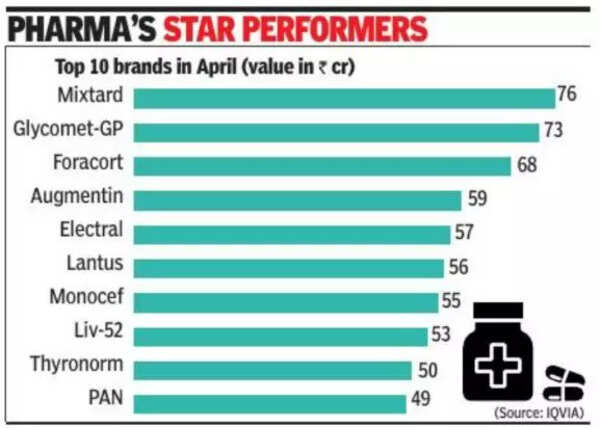 Antibiotic Augmentin had been witnessing a growth in sales since January, and assumed the top slot in February and March, coinciding with the flu and viral season in the country. It may be noted Augmentin, a combination of amoxicillin and clavulanic acid, is believed to work against various types of bacteria, but is being popped in for viral infections too. Respiratory issues seem to have troubled a few people, with Foracort taking the third slot (Rs 68-crore sales), while antibiotic Augmentin slipped to the fourth place with Rs 59-crore sales.
Among therapies, respiratory, anti-infectives, vaccines and pain medicines were the major market drivers. In fact, respiratory and anti-infectives posted the highest growth of 29% and 25% respectively during the month, dipping from the previous levels of 50% each for both in March, the data showed. Besides Augmentin, others that had recorded highest growth include Calpol and Monocef during March.
Domestic companies hold a majority share of 83% in the pharma retail market, while the remaining 17% is held by multi-nationals. Domestic companies have consistently outperformed MNCs for the past 12 months, an analyst from Motilal Oswal said. Among the top 20 corporates, Mankind (up 19% year-on-year, or YoY), Alembic (18% YoY), JB Chemicals (18% YoY), Macleods (16% YoY), Cipla (15% YoY), Alkem (14% YoY), and Ajanta (up 14% YoY) all outperformed the pharma retail market, he added.