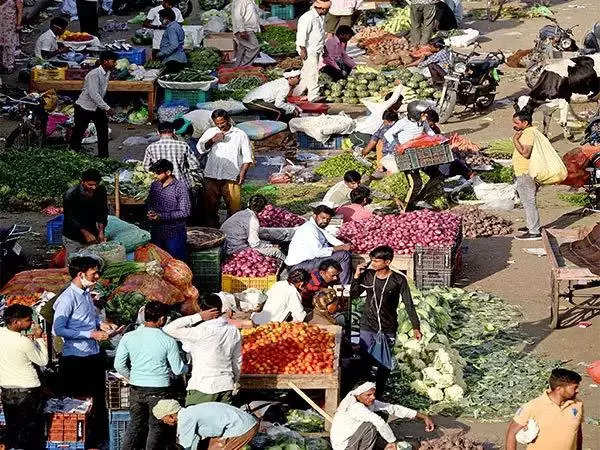 NEW DELHI: Wholesale price-based inflation declined for the first time in nearly three years in April due to a high base and moderating prices of commodities. The development prompted economists to say that the RBI is likely to continue with its pause on interest rates.
Data released by the commerce and industry ministry
on Monday showed inflation, as measured by the Wholesale Price Index (WPI), fell 0.9% in April, below the 1.3% rise posted in March. Decline in the rate of inflation in April 2023 is primarily accounted for by a fall in prices of basic metals, food products, mineral oils, textiles, non-food articles, chemical & chemical products, rubber & plastic products and paper & paper products. This is the 11th consecutive month when WPI inflation has eased.
"The WPI expectedly slipped into a year-on-year (YoY) deflation of 0.9% in April 2023 (+1.3% in March 2023), after a gap of 32 months, amidst a deflation or moderation in inflation for several categories apart from minerals and crude petroleum. Moreover, the YoY deflation in manufactured non-food products (core-WPI) widened to a 41-month low of 1.8% in April 2023," said Aditi Nayar, chief economist at ratings agency ICRA.
"Global commodity prices are about 20% lower on a yearly basis on account of the elevated prices that prevailed following the Russia-Ukraine conflict and the subsequent sanctions imposed against Russia during May 2022. A high base and mixed trends in wholesale food prices in early May 2023 are likely to soften the YoY food inflation, even as the near-term outlook is clouded by the possibility of a potential heatwave and potential development of El Nino conditions," said Nayar.
Last week, data released by the National Statistical office (NSO) showed retail inflation moderated to an 18-month low in April on the back of a favourable base effect and softening in some food prices, bringing much-needed relief from stubborn price pressures.
"We think the moderation in retail inflation (which we expect to continue) suggests a pause is likely in the next MPC meeting in August. Easing wholesale price pressures indicate that input price inflation is also easing…However, given still high base effects in retail inflation, coupled with softening momentum, we expect the MPC to remain on hold for the rest of the fiscal year and do not envisage rate cuts in the near term," Barclays said in a note.