NEW DELHI: India's trade deficit narrowed to a 20-month low of $15. 2 billion in April as goods imports and exports shrank in the wake of lower commodity prices amid weak demand in Europe and the US.
Latest data released by the commerce department pegged goods exports at $34. 7 billion, which was 12. 6% lower than a year ago and the steepest fall since August 2020 when it crashed 12. 7%. It was also the third straight monthly decline.
Similarly, imports contracted 14. 1% to $49. 9 billion — the sharpest fall since the 33% decline last October — and marked the first time since August 2021 when the monthly value of shipments coming into the country was under $50 billion, according to data available with the government and the RBI.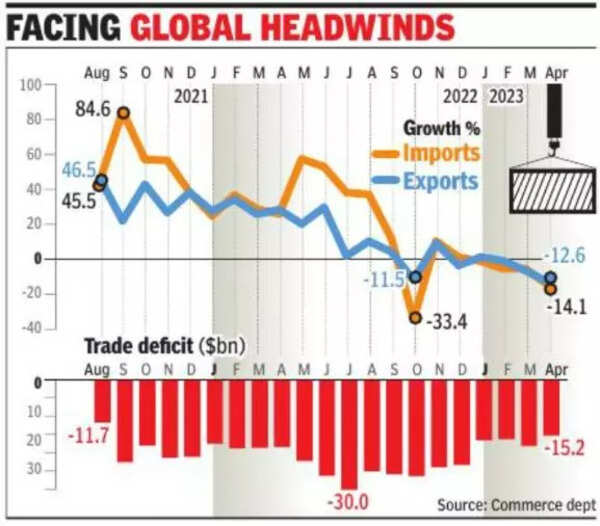 Director general for foreign trade Santosh Sarangi pointed to sectoral data, suchas petroleum, to argue that commodity prices were a key driver for a decline in both exports and imports, while the demand for gems & jewellery and readymade garments had fallen in Europe and the US as consumers cut down on discretionary spending during a tough economic environment.
The prognosis isn't good for the next few months. "For the next two-three months, the demand scenario does not look very optimistic. Things may change September onwards… There is a possibility that the opening up of the Chinese economy combined withsome boost in demand in Europe and the US from AugustSeptember onwards might give a boost to global exports," Sarangi said.
The government is drawing comfort from the services export numbers, which have so far bucked the trend. During April, services exports were estimated to have increased 26% to $30. 4 billion, while imports were pegged at $16. 5 billion, a 17% increase.
Besides, the commerce ministry revised the trade numbers for the last financial year. Export of goods and services in 2022-23 is estimated to have increased 14. 7% to $775. 9 billion, around $6 billion higher than the earlier estimate. Imports were around $894. 2 billion, 17. 7% higher, resulting in a trade deficit of $118. 3 billion.
The numbers also showed that goods exports increased 6. 7% to cross the $450-billion mark for the first time, while imports were estimated to have gone up 16. 5% to $714 billion during the last fiscal year.