NEW DELHI: Banks and other entities have involved personal bankruptcy provisions in over 1,800 cases against personal guarantors – a majority of whom would be ousted promoters of companies which faced action under Insolvency and Bankruptcy Code – but realisation of claims has been extremely poor, so far.
Claims filed against the personal guarantors topped Rs 1. 5 lakh crore at the end of March 2023, latest data released by the Insolvency & Bankruptcy Board of India showed.
But the numbers also revealed that progress has been slow. Of the 1,839 cases filed after the rules for personal insolvency came into effect in December 2019, resolution professionals have been appointed in 42% or 760 cases (63 cases weredismissed or withdrawn).
The record of cases finally admitted is worse, as only 208 made the cut. And, recovery by creditors has been a measly Rs 23 crore – less than 1. 6% of admitted claims of Rs 1,472 crore.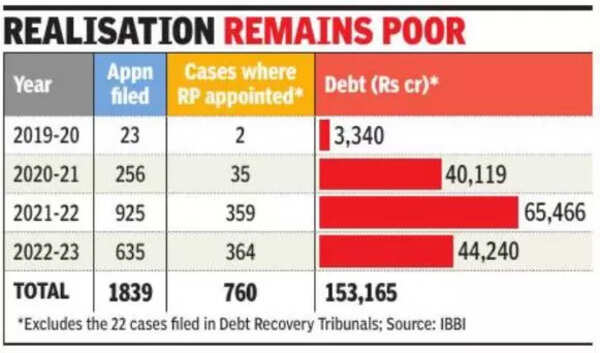 While personal insolvency option is still not activated under IBC, it was operationalised in case of personal guarantors as promoters and related entities had given guarantees at the time of getting loans which they had refused to honour.
The government and the lenders had thought that with the window of insolvency option opening under the Insolvency and Bankruptcy Code, they would be able to recover some of their dues from personal guarantors. But experience so far shows otherwise, resulting in overall realisation from the insolvency action remaining low.
Since insolvency actions under IBC commenced in 2016-17, the realisation for creditors he government and the lenders had thought that with the window of inis 32% of claims, with financial creditors, largely banks, seeing a realisation of just over 34%, while the operational creditors have managed around 17. 6%. Resolution has happened in 677 of the 6,567 cases – a little over 10% – with liquidation commencing in 31% of the cases. The government has been reviewing the law and is seeking to improve it, including changing the terms for settlement of claims among financial and operations creditors.